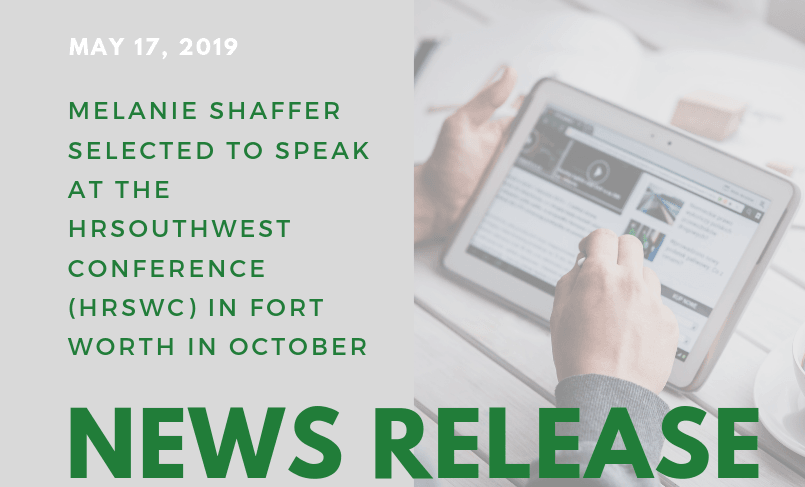 15 May

Melanie Shaffer Selected to Speak at HRSouthwest Conference

Dallas, May 15, 2019 — Melanie Shaffer, President and Founder of Talent Suite, has been selected to speak at The HRSouthwest Conference (HRSWC) in Fort Worth, Texas, October 27-30, 2019.

Throughout the two and a half day HRSWC event, an abundance of networking opportunities are provided, giving more than 2000 attendees and exhibitors the chance to network with each other, build connections and interact with the expert lineup of educational speakers during the highly valued educational sessions.

Melanie will speak at the education session, entitled, "Talent Optimization: Maximizing Productivity Across the Employee Life Cycle," from 2:00 p.m. – 3:15 p.m. The topic will cover how to help organizations align business strategy and people strategy by leveraging psychometrics to reach desired goals. The session will detail several key takeaways including:
How to increase the quality of candidates in your talent acquisition process.
How to understand what motivates your employees and how to foster that within your leadership and culture.
What proven methods and best practices work to retain team members.
Melanie is the President and Founder of Talent Suite and an active Partner of The CFO Suite. Talent Suite empowers organizations to achieve their greatest potential through people using scientifically validated and proven methodologies along with data analytics. As objectivity is brought to a subjective process, clients are given the ability to align, measure, and design optimal human capital performance for managing and hiring talent.
"If an organization isn't achieving its desired business results, the "why" boils down to this: they have a people problem. I'm looking forward to sharing the latest information on how Talent Optimization can be a game changer in business and greatly improve the bottom line." stated Melanie Shaffer, President of Talent Suite LLC.
About Talent Suite LLC
Born out of frustration and the need for a better way of solving people problems, we created Talent Suite with a mission to help organizations build more productive workplaces.  Whether getting the right people in the right seats, reducing operational friction while improving honest, direct communication or identifying and coaching-up your high potentials, we focus on the talent optimization part of your business strategy.
Using data, brain science and lots of experience we can diagnose your people issues and help you align, engage, develop and retain talent by bringing objectivity to a subjective process.
About The HRSouthwest Conference
The HRSouthwest Conference (HRSWC), powered by DallasHR was founded in 1941, is recognized today as one of the largest regional human resources events in the United States. The conference offers educational sessions, nationally renowned keynote speakers and a Marketplace of 200+ solution and service providers.