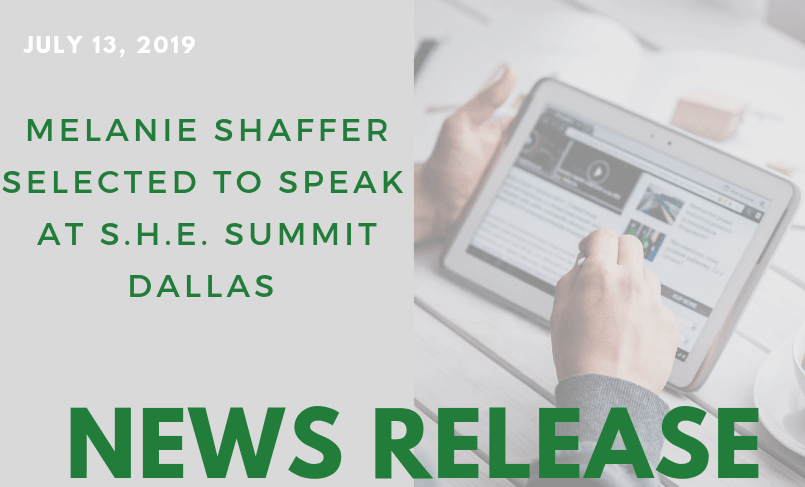 13 Jul

Melanie Shaffer Selected to Speak at S.H.E. Summit Dallas on a Panel Discussing Transitioning Careers

Dallas, June 28, 2019 — Melanie Shaffer, President and Founder of Talent Suite, has been selected as a speaker on the S.H.E. Summit Panel during S.H.E. Summit Dallas, August 29, 2019, at the Hilton Anatole in Dallas. The panel will be discussing transitioning careers, a subject Melanie has significant expertise in, having moved through accounting, recruiting, retained search, talent management and now, management consulting

Melanie is the President and Founder of Talent Suite and an active supporter and Gold Sponsor of S.H.E. Summit Dallas. Talent Suite empowers organizations to achieve their greatest potential through people using scientifically validated and proven methodologies along with data analytics. As objectivity is brought to a subjective process, clients are given the ability to align, measure and design optimal human capital performance for managing and hiring talent.

"I'm very honored and excited to participate on the S.H.E. Summit Panel. It's inspiring to have the opportunity to discuss relevant topics that can transition and advance careers and positively impact lives."  Melanie Shaffer, President and Founder, Talent Suite LLC.

Melanie Shaffer is actively involved in community and industry events such as S.H.E. Summit Dallas and will be among other strong women business leaders at this gathering aimed at cultivating women and men leaders. S.H.E. Summit Dallas is focused on connection, education and activation required to propel change.  Overall their goal is to accelerate the equality empowerment of all humans.

About S.H.E. Summit

S.H.E. Summit is the renowned global leadership conference that takes place once a year to celebrate and accelerate the global advancement of women and gender equality. Founded by women's leadership expert Claudia Chan and named one of Inc.'s "10 most innovative conferences," S.H.E. Summit convenes 50+ thought leaders and movement drivers of today's most relevant women and societal issues on its global stage to inspire thousands of influencers to lead change in the world.

About Talent Suite LLC

Born out of frustration and the need for a better way of solving people problems, we created Talent Suite with a mission to help organizations build more productive workplaces.  Whether getting the right people in the right seats, reducing operational friction while improving honest, direct communication or identifying and coaching-up your high potentials, we focus on the talent optimization part of your business strategy.

Using data, brain science and lots of experience we can diagnose your people issues and help you align, engage, develop and retain talent by bringing objectivity to a subjective process.