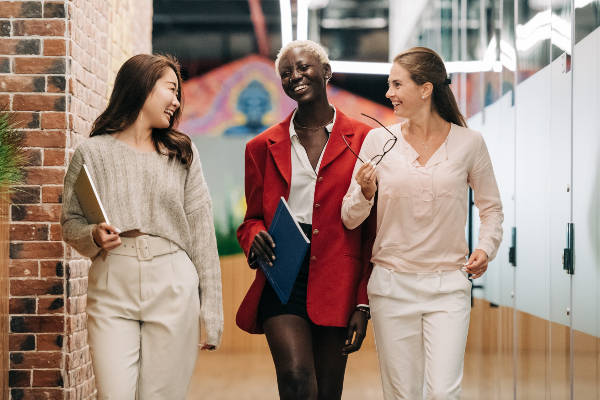 05 Aug

The case for focusing on workplace happiness

The New York Times recently published an article entitled "Are You Happy? Your Boss is Asking". The article outlines a renewed corporate focus on employee well-being, especially in the current employment market.

The article is less about the perks of yore made most famous by Silicon Valley tech companies —free lunches, extravagant concerts, an abundance of social events– and more about personalizing an employee's happiness to what makes a difference to them as an individual. Those in-office perks mean very little, after all, to an employee who was hired in the Covid era and plans to work remotely for the near future or even on a permanent basis. The article touts an $18,000 "Happiness MBA" for managers as one way some companies are educating themselves about what makes employees stick. Spoiler alert: it will be different for every employee.

At Talent Suite, we know that work has become more relational and personal in recent years. We have research to support it, and we see it every single day with our clients. Employees want to feel good about their workplace, and they want to feel understood and supported by their managers. Managers can't control what happens to employees outside of the office, but they have more influence than they realize inside the office. Realizing that employees bring their outside experiences and stresses into the workplace each day, it may be time to take a second look at how you are supporting employees at work.

While Talent Suite doesn't offer "Happiness MBAs" on our list of services, we do offer consulting to managers based on behavioral analytics. Our data-backed strategies cost far less than an MBA program and may work even better in the long run because of their sustainability and diversity of application. When you truly understand what motivates individual employees and how to make small changes to keep them engaged (and happy!), you'll have an advantage in this competitive labor market that is here to stay.

Here are our Top 3 ways to use behavior analytics to bring happiness to your workplace:
Focus on Your One-to-One Relationships: Review your data in relation to an individual to quickly gain line of sight on how the two of you relate (or not) in how you take action, make decisions and communicate. Maybe you feel you aren't getting through to a specific employee because the way you communicate in broad strokes doesn't fulfill their need for more details, for example. A behavior analytic can show how each of you are naturally wired to communicate, and you can adjust to accommodate any major differences.
Look at Your Team as a Whole: Quickly understand your team in relation to the work you are asking them to do and if there are gaps in their natural ability to perform the work. Work changes, but people don't. A behavior analytic can illuminate how much you are asking people to adapt to changing work, so you can see specific areas where you need to coach them up to success.
Find Those Hidden Gem Employees: Every organization has employees that are being overlooked and/or underutilized based on how they naturally want to work. A top performer who is now showing lackluster performance may not have suddenly become a slacker, for example. They may need a new challenge or higher-level work to help motivate them once again. Behavior analytics help uncover these types of employees.
Every employee comes to work each day with different motivations and needs. Taking a bit of time to understand your employees, and what you can do to "feed the needs" of each one, will create a happier and more productive workplace. No "Happiness MBA" necessary.
If you are interested in using a behavioral analytic in your workplace, reach out to our Talent Suite team today.